#crypto #business #blockchain #cryptonews #bitcoin #cryptobusiness #ethereum #mining #pow #pos #cryptonews.pro #hypercapital #hypertech #hyperland #hypercash #tech #onlinebusiness #news #mustsee #mustwatch #mustread #cryptology #trading #online
After forming a short term top below the USD 9,650 resistance, bitcoin price started a downside correction. BTC/USD broke the USD 9,350 and USD 9,250 support levels. It even spiked below USD 9,200 and currently (09:00 UTC) consolidating above USD 9,200.
On the other hand, there was a decent increase in most major altcoins, including ethereum, XRP, litecoin, bitcoin cash, BNB, EOS, TRX, ADA, and XLM. XRP/USD outperformed and rallied more than 10% to surpass the USD 0.265 and USD 0.272 resistance levels. ETH/USD is also climbing and it is back above USD 190.
Total market capitalization
Bitcoin price
In the past three sessions, bitcoin price followed a short term bearish path below the USD 9,350 support level. BTC/USD even traded below the USD 9,200 level and tagged the USD 9,080 area. It is currently consolidating above USD 9,200 and facing a lot of hurdles on the upside near the USD 9,320 and USD 9,350 levels.
If there is a clear break above USD 9,350, the price might continue to rise towards the USD 9,550 resistance level. On the downside, an initial support is near the USD 9,080 level, below which it could slide towards USD 8,850.
Ethereum price
Ethereum price remained well bid above the USD 185 support and it recently recovered higher. ETH/USD surpassed the USD 190 level, but it is struggling to continue above the USD 192 level. The next key hurdles are USD 195 and USD 200.
On the downside, an initial support is near the USD 188 level, followed by USD 185. A clear break below the USD 185 support might call for an extended decline towards the USD 178 support.
Bitcoin cash, litecoin and XRP price
Bitcoin cash price is rising within a tiny range above the USD 375 and USD 370 support levels. On the upside, a clear break above the USD 390 and USD 395 is needed for a sharp increase above the USD 400 level. The next stop could be USD 440.
Litecoin remained well bid above the USD 65.50 and USD 66.00 levels. LTC/USD is rising again and it is approaching the USD 70.00 resistance area. A clear break above the USD 70.00 level might start a strong increase towards the USD 72.50 and USD 74.00 levels. On the downside, the main uptrend support is at USD 65.50.
XRP price surged higher recently and surpassed many hurdles near USD 0.265 and USD 0.272. The price even climbed above the USD 0.280 level. It seems like the bulls are aiming a test the USD 0.298 and USD 0.300 resistance levels in the coming sessions.
Other altcoins market today
In the past three sessions, many small-capitalization altcoins climbed more than 5%, including MANA, KICK, LSK, HBAR, GNT, STEEM, SC, ZEN, IOST, ONT, VSYS, NEO, ZIL, XLM, ELF, BTT, HOT, and DOGE. Out of these, MANA is up around 16% and KICK gained nearly 14%.
Overall, bitcoin is still holding the USD 9,000 region. However, the bulls need to push BTC/USD back above the USD 9,350 level to start a fresh increase. If not, there is a risk of a larger downside correction below the USD 9,000 level.
_____
Find the best price to buy/sell cryptocurrency: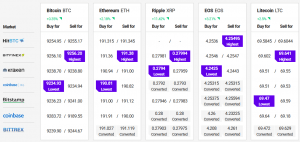 Credit: Source link